Take On High-Energy Sparring, Traditional Karate Forms, and Samurai-style Sword Training at Burch's Karate!
If you're looking to build your prowess through traditional martial arts forms such as Chanbara, Kumite, and Kata, our team would be proud to have you on our Competition Team! We'll guide you through each technique, from the fundamentals to the most advanced techniques, and help you become the best you can possibly be.
Join us at Burch's Karate in North Phoenix for Competition Training that will allow you to build your fitness, let your creativity run free, and have tons of fun!
... or simply fill out the short form on your screen to learn more!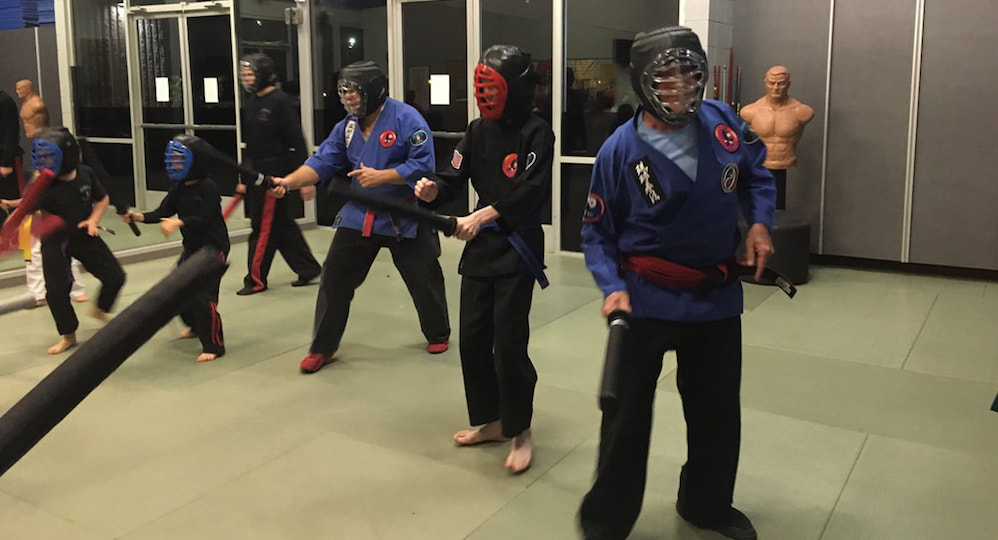 What Competition Forms Do We Offer?
Chanbara
Want to be like a Jedi or a Samurai Warrior? Then Chanbara is for you!! It allows students the chance to sword duel at full speed in a safe, controlled manner. Chanbara is the Ultimate Game of Physical Chess. This will improve your quickness and reflexes like nothing else can while providing an unbelievable cardio workout at the same time. So kids: unplug the video games, adults: get off the sofa and have more fun than you could ever imagine. Burch's Karate will also help those interested in competing with others the chance to do Chanbara for points in Martial Arts Tournaments.
Kumite
Kumite is free sparring for points, like tag but using Karate Techniques. The advantage of Kumite is to learn proper timing and distancing. Sparring should never be confused with self-defense. It is strictly for sport but is also an incredible cardio workout. Students are required to purchase the proper safety equipment and must be worn while sparring in class or competing at a tournament. The equipment includes foam dipped head gear, hand pads, feet pads, mouthpiece and cup for males. We also highly recommend shin guards, and chest/rib protector.
Kata
Students that are passionate about Kata/Forms will now be able to showcase their skill in tournaments, and possibly win trophies taller than you. When competing in tournaments you will be be facing off against other Martial Artists near your age and belt rank. The competition is fierce and will attract competitors state wide and often from across the nation. Like a demonstration team has to perfect high flashy kicks, deep stances impressive yells and theatrical facial expressions. Students choosing to participate in Competition Kata classes will also learn proper tournament/ring etiquette. Unlike team sports where you depend on others to succeed or a coach getting you off the bench. In Martial Arts the only bench is for parents and others to observe the AWESOMENESS going on in the dojo. You can be the best if you give your best!
Join Us In North Phoenix For Martial Arts Competition Training!
We're proud to offer high-quality instructors, a supportive environment, and all the professional martial arts training you can handle! From pursuing perfection in your kata form to training like a samurai, we have everything you need to build fun, functional fitness and get your competition fix at the same time.
Just fill out the short form on your screen to learn more!