Happy July!
We are still in this Covid whirlwind. Anyone as tired of it as we are? Although we are in tough times right now, we are constantly trying to roll with the punches and re-invent ourselves.
INFORMATION FOR THOSE WISHING TO DO "IN-PERSON" CLASSES
We will be continuing our modified, in-person classes throughout July, we are allowing students to attend twice a week. This month however, students that wish to attend in-person classes will need to pick their 2 days a week (A Curriculum day of Monday or Tuesday AND a Program day of Wednesday or Thursday). If you are wishing to participate in the "IN-PERSON" classes-you will need to register on Sign Up Genius for your two days to attend. If you haven't received the link for that, please let us know and we can help you register for your days.
PLEASE NOTE: If you signed up for July's Sign Up Genius classes--those are the two days you will attend EVERY WEEK for the month of July. We NEED to do this to maintain our guidelines the state has mandated for our business. We are allowed only 12 kids in a class to keep each student "socially distanced".
**NEW RULE FOR IN-PERSON CLASSES** When approaching the dojo, student's/parents must wear a face-mask. Students will need to wear a face-mask until they get into their safety box. Then they can remove their face-mask (if they wish) and stick in their belts until it's time to be dismissed. We want to try and keep all our student's and instructors as safe as possible. In accordance with state guidelines, face-masks must be worn until you are able to social distance. It stinks...we know...
Students participating in "in-person" classes may still participate in virtual classes as well.
INFORMATION FOR THOSE WISHING TO CONTINUE VIRTUAL CLASSES
Virtual Classes will continue indefinitely. Please be sure to check your "Member's Only" account to see the times of your virtual classes as the times may have changed since we added more classes for "in-person". Virtual classes are still offered 5-6 days a week (depending on your program) and you may attend unlimited virtual classes.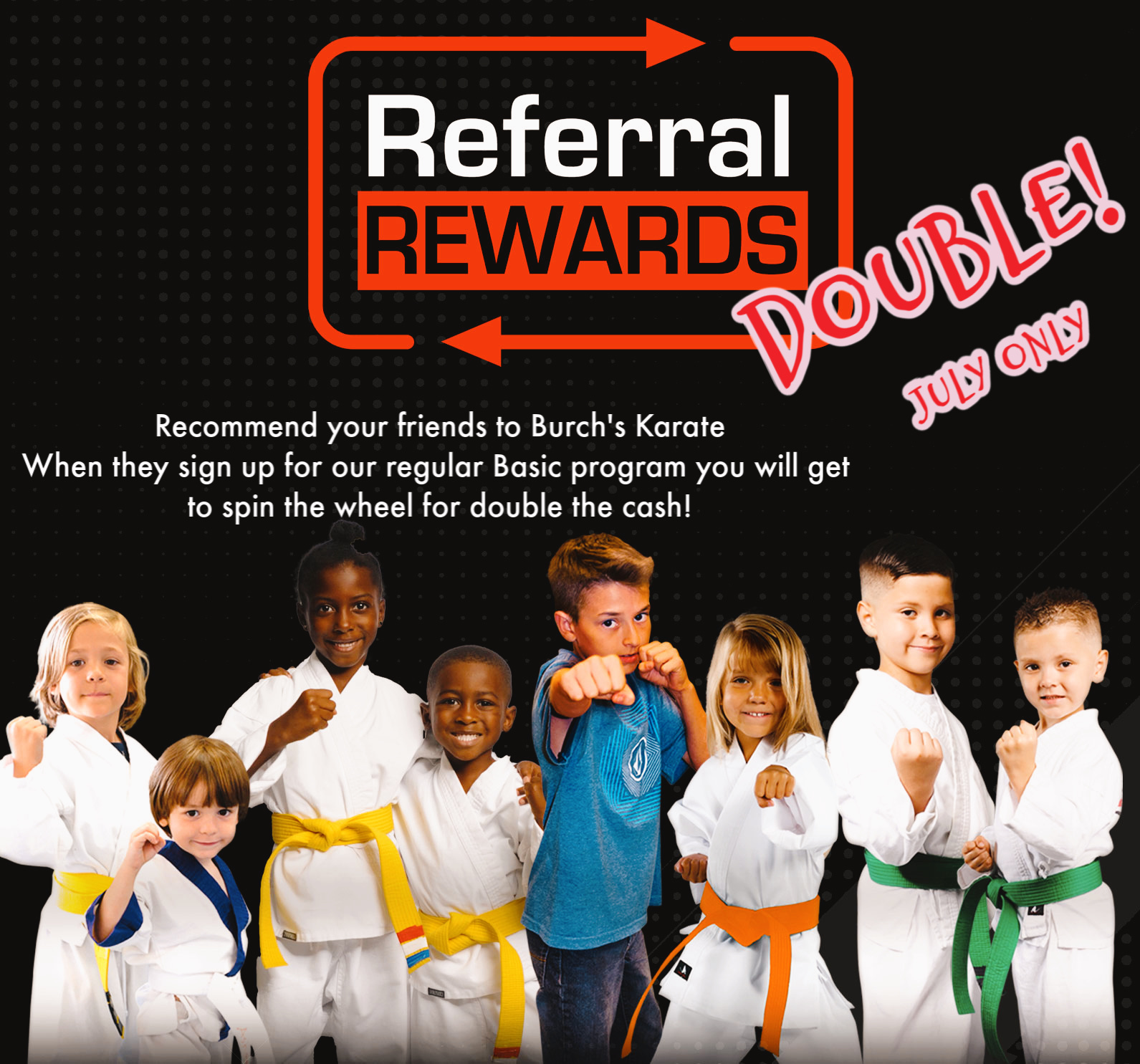 You read that right! Recommend your friends/family to our dojo and when they register for our Basic Program we will let you spin our Referral Wheel for DOUBLE the dollars!! Hurry-this double referral dollars is for July only!
BURCH'S KARATE WORD OF THE MONTH FORJULY IS: ORGANIZATION
This month in class we'll be talking about "Organization". We are starting up our worksheet for our Word of the Month so be sure to SCROLL DOWN and click the PDF to download/print this month's form. Anyone turning in their form during the due dates with receive a coupon for a Dairy Queen Sundae! Students not coming to the Dojo can complete the Word of the Month form and email it to us.
NEW CONTEST FOR JULY!
Beginning this month, students attending a class at the Dojo or Virtually will be added to our contest roster. The more classes you attend, the better your chance of winning our grand prize! Mr Burch will be talking about the grand prize for this month during all the classes.
We will have the drawing at the end of the month.
While he enjoyed driving pizza around town, he is hanging up his delivery man apron to switch things up a bit. We will continue to do our Saturday Kahoot's. If a child wins, they will receive the weekly prize, if an adult wins the Kahoot, they will get an Amazon gift card. There will not be a separate Adult Kahoot game.
***UPDATE ON CAMP WILL BE COMING THIS WEEK*** We are going to be weighing our options with camp this month. If you are interested in camp, please let us know. It will be July 15-19. 9:00AM-1:00PM