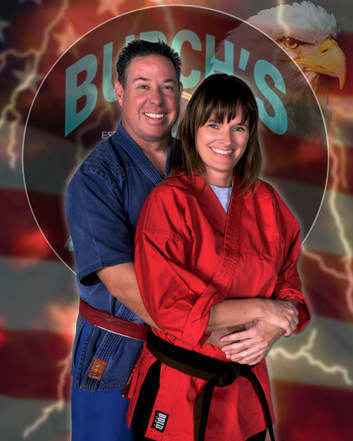 Sensei Bill Burch
In 1986, Bill Burch established Burch's Karate in the town of Minooka, Illinois. After spending to many cold winters in the Chicago area, he and his wife, Tammy, decided to sell everything and venture off into the sunny state of Arizona. In July of 2000, they relocated and reopened Burch's Karate in Scottsdale. In August of 2010, they relocated to their current location in Phoenix.
Sensei Burch has Black Belts under three of the most famous Martial Arts Masters in the world: George Dillman, Remy Presas and Wally Jay. Sensei is an expert and Grandmaster (10th degree Black Belt) in the art of Kyusho Jitsu (one second fighting). Sensei teaches seminars all over the country as well as Europe. Black Belts and Masters from around the globe have studied under Sensei Burch.
Sensei Burch is featured in all five of George Dillman's books: ?Kyusho-Jitsu: The Dillman Method of Pressure Point Fighting Advanced Pressure Point Fighting of Ryukyu Kempo Tuité Advanced Pressure Point Grappling Pressure point Karate Made Easy: A Guide to the Dillman Pressure Point Method for Beginners and Younger Martial Artists. Humane Pressure Point Self-Defense: Dillman Method for Law Enforcement, Medical Personnel, Business Professionals, Men, and Women.
Mr. Burch appears in Dillman's videos that are sold around the world. He has also appreared in many Martial Arts magazines. Additionally, he was featured on Chicago's Fox News and was heard on the Jonathan Brandmier and the Kevin Matthews radio programs on Chicago's The Loop. Sensei also performed in Leo Fong's 2005 film called Transformed with George Dillman, Fred Williamson and Ken Moreno.