For any student to advance to their next Belt Rank we want to be sure they have the material and skill required for that particular Belt Rank. We want LEADERS and the final Black Stripe will be given to students that can demonstrate the Kata & Self Defense on their own with the proper speed, power and focus required for the rank they are aspiring to earn.
On Tuesday December 17th & Wednesday December 18th there will be NO REGULAR CLASSES!! On those 2 days we will be doing individual testing of each student that has earned the required amount of attendance stripes.
White Belts must have a minimum of 2 Purple Stripes on their belt to qualify to be checked on the 17th or 18th.
Yellow belts & up they must have at least 4 Purple Stripes on their belt -OR- be earning their 4th stripe the week of December 16th in order to qualify to be checked. Remember you can make up missed classes due to illness or vacation time. The Family Class on Saturday's at 11:30 AM is another option for classes that need to be made up.
***PLEASE NOTE...ATTENDING THE PRE-TEST IS NOT A GUARANTEE THAT YOU WILL BE PROMOTIONG!
TO SIGN UP FOR YOUR PRE-TEST SLOT CLICK THE SIGN UP GENIUS LOGO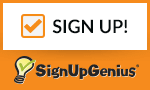 We will post 5 minute time slots with Sign Up Genius. It is going to be important that students are on time so we are asking everyone to be there 5 minutes before the time they select.
Our Belt Graduation is scheduled for Saturday, December 21st 6:00 PM at Mountain Trails Middle School, Gymnasium. This is a VERY IMPORTANT occasion for your child!
I have seen many parent's act like this is really not a big deal, and attend ONLY if there is nothing else going on....and I'm telling you...IT'S A BIG DEAL!!! Would you let your child miss a football or soccor game after he/she has put in practice? This is just as important.
Your child has EARNED this, and WORKED for this...and it's a time to CELEBRATE them and their ACHIEVEMENT! It also helps their confidence, self-esteem, goal setting, among many other character developments!!